As I promised to MC, this is the re-post of his visit to Hongkie Kopitiam @ eGate so more people can be aware of what happened...
This is a story about relatively decent food, deceptive advertising, impolite restaurant management, and hopefully the power of the Internet. This event took place yesterday (1 October 2009) at the eGate outlet of Boston (what was once Hongkie Kopitiam), when myself and two colleagues decided to have lunch there.

The restaurant staff was courteous enough (despite a pedantic grasp of the English language, but that's neither here nor there), and when we were seated we spied upon a flyer promoting free coffee, milk tea, or ying yong (a combination of both) with any menu item order. We were happy to see that, and proceeded to order such drinks to go along with our lunch.

Lunch was pretty good, and being the thirsty kind, I was the first to finish my glass of ice coffee. I requested a refill from the waiter, and was informed that the free refills is valid only for hot drinks. I was perplexed by this, as the flyer (see below) did not mention anything about this promotion being limited only to hot drinks. In fact, the graphic adorning the flyer definitely showed cool glasses.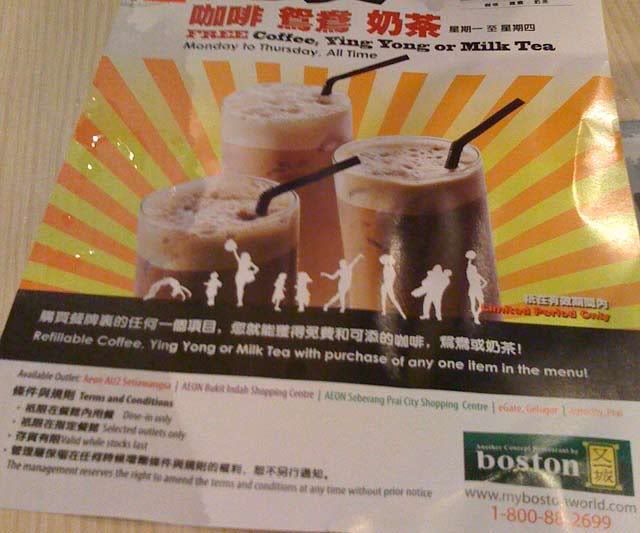 Annoyed, the three of us requested to speak with the manager, who came to our table to repeat pretty much the same thing, adding (in a rather unfriendly, arrogant manner) that the management reserves the right to change the terms and conditions of this promotion at any time.


From a legal point of view, they were of course in the right. But this was simply bad customer service, and an obvious case of false advertising, as the flyer was designed and written in such a way to deceive and inveigle unsuspecting customers. Rather angry now, I threatened to bring this up to the CAP (Consumer Association of Penang) as well as posting this up on the Internet in whatever personal capacity possible. The facial expression of the manager very quickly changed to one of fear and worry, and she immediately offered to not only refill our drinks, but also give us each a jug of said drinks. We stuck to our guns, declined her offer, paid the bill, and left the establishment.

I do not know if this is endemic amongst all Boston outlets, or if it is only the eGate Penang branch that is so messed up. Nevertheless, I urge anyone reading this post to boycott them and spread the word. This is sheer arrogance and obscenely terrible customer service from a restaurant, barefacedly deceiving their customers with false advertising.

Please spread the word to your friends, and your friends' friends, and feel free to reproduce this blog entry (mention of original source is welcome of course) any way you like. We should not have to tolerate such eateries. Imagine the embarrassment if this happened to a tourist!